Or 5 New Things About Bats We've Learned in the Past 5 Years
Back in 2014, I was super lucky to work with TED-Ed to create this animated video and interactive lesson on the truth about bats. But, since that was a while ago, lots of new science has been done and warrants an update on some of the most exciting recent findings in bat ecology and conservation research.
1) While in 2014 there were just over 1,200 documented species of bats, now there are more than 1,400 species on the official list! Bats that recently got the full taxonomic description workup include the newsworthy "Lance Bass" bat (Murina hkakaboraziensis) and the charming "Yoda" bat (Nyctimene wrightae). The genus Myotis, one of the most species-rich of all mammalian genera, also saw the addition of several newly described species such as the aptly named cryptic myotis (Myotis crypticus), which was the 1400th species added to the list. Meanwhile, other bat species — like the evening bat (Nycticeius humeralis) in Wisconsin and Kuhl's pipistrelle (Pipistrellus kuhlii) in Europe — have been found in new areas, which could represent range expansions in response to climate change.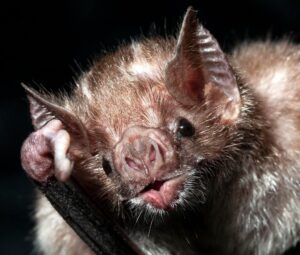 Close up of a common vampire bat (Desmodus rotundus
Photo by Brock and Sherry Fenton.
3) Bat researchers continue to learn more about what bats are eating, and have found that insectivorous bats consume pest insects for even more crops than previously documented, including rice, pecans, and macadamia nuts. By studying the diets of bats, we have also learned a lot in the past few years about the nuances of their foraging ecology. While many bat species provide free-of-charge pest control in agricultural areas around the globe, some of them are better at doing their diligent work in landscapes with more natural vegetation that provide enough food for them when those pesky crop pests aren't around. In urban areas, acoustic monitoring has also shown that our insect-snacking friends can benefit greatly from habitats like green roofs and green spaces in cities.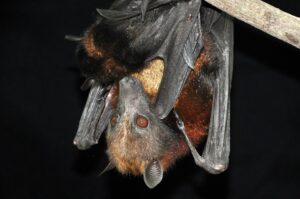 Island flying fox (Pteropus hypomelanus) mother and pup.
Photo by Juliana Senawi.