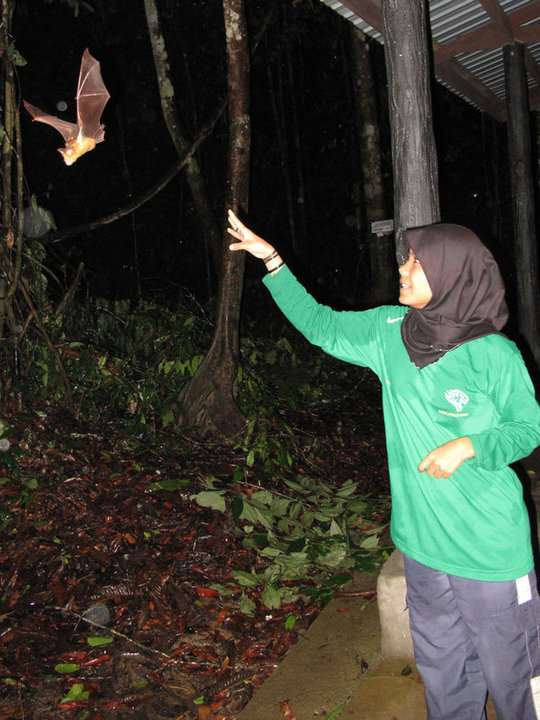 Nor Amira Abdul Rahman (Mimi)
Eötvös Loránd University
Budapest, Hungary
Ph.D Student
ar.noramira[at]yahoo.com
"It matters not what someone is born, but what they grow to be." ― A. Dumbledore
Residing in Hungary, currently, I am in my final year of doctoral program in Eötvös Loránd University, Budapest. My research project is focusing on bat's behaviour around anthropogenic objects, precisely on tilted acoustically smooth surface as well as finding the best mitigation to these problems.

I started to be involved with bat research since 2010 when I was in Universiti Sains Malaysia (Malaysia) doing my bachelor's degree where I first come face to face with a bat in Ecology class. Later I was being introduced to Dr Tigga Kingston, the leader of SEABCRU team for my 6 weeks of internship and help her doctoral students collecting their research sample data in Krau Wildlife Reserve. From then on, I was hooked!

For the last decade, I pursued my master's degree in the same institution and actively involved in a project of fruit-eating bats ecology in Penang for several years, while working as a research assistant in my university. I also have worked for several jobs which were a field assistant for a monkey group research, a biology lecturer in a local university, as well as a secondary and high school substitute teacher in northern part of Malaysia. I have joined several non-government organisation's programs during the years, such as WWF, KUASA, and Friends of the Earth as a volunteer. Before I went to Hungary for my PhD studies, I was again, actively involved with bat research and handled few bachelor's degree students in Universiti Sains Malaysia doing their final year project on bats ecology and diet, apart from joining in several bats scientific workshops and programs.

Apart of my doctoral research interest, I am also interested in bats ecology, ecosystem services of bats around paddy field as well as cave mapping. I would love to also get involve in bat conservation, and science communication for both public audiences and policy makers.

I am happy to be a student representative of such a big group like GBatBet and be one of the co-lead for one of the working group which is Improving and Standardizing Monitoring Protocols to Enable Conservation Planning. Can't wait to learn more from people around the world!
Selected recent publications:
Nor Amira Abdul Rahman, Zalila Ali, Wan Fatma Zuharah and Nik Fadzly. 2016. Counting with colors? Effect of colors on the Numerical Abilities of House Crow (Corvus splendens) and Common Myna (Acridotheres tristis). Tropical Life Science Research, 27(2): 1-12. PMID: 27688847 PMCID: PMC5031156
Nur Juliani Shafie, Nor Amira Rahman, Shahrul Anuar Mohd Sah, Nik Fadzly Nik Rosely and Maryam Sufian. 2014. Feeding Behaviour of Cynopterus sphinx (Pteropodidae) Under Captive Conditions. Tropical Life Sciences Research, 25(2): 53-59. PMID: 27073599 PMCID: PMC4814146
Rahman, Nor Amira Abdul, Rosely, Nik Fadzly Nik, Dzakwan, Najibah Muhammad, and Zulkifli, Nur Hazwani. 2014. Numerical competency of two species of birds, Corvus splendens and Acridotheres tristis. Tropical Life Science Research, 25(1): 95-103. PMID: 25210590 PMCID: PMC4156476
Nor Amira Abdul Rahman, Shahrul Anuar Mohd Sah, Fatim Syakirah M, Evan SH Quah, and Muin M Abdul. 2014. A checklist of the bats (Chiroptera) of Bukit Mertajam, Pulau Pinang, Malaysia. Malayan Nature Journal, 67(1): 15-23. [pdf]