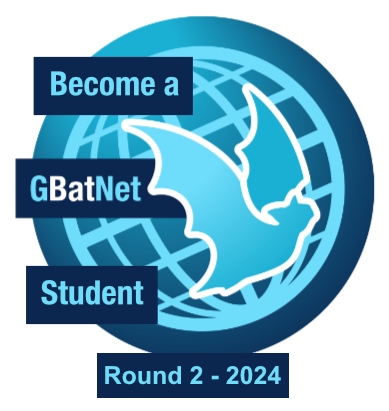 GBatNet brings together 18 existing bat diversity networks and affiliated organizations from across the world with the shared vision of sustainable bat diversity in a changing world.
Students are a key part of fulfilling this vision. GBatNet is committed to broadening participation in STEM both in the US and abroad, and we encourage application by students from any under-represented and under-served groups. We are looking for the next generation of global leaders in research and conservation to participate in GBatNet activities over the next five years and would like to include a plurality of voices and viewpoints.
Specifically students will:
Receive technical training, professional development, and mentoring opportunities to ensure success of activities listed below.
Work in multinational interdisciplinary student research teams to design, develop and conduct research that supports broader GBatNet goals. (~40%)
Assist with GBatNet ad hoc research projects e.g. sourcing and managing data, literature reviews, analysis, conference and meeting management (e.g. IBRC, SEABCO regional meeting) (~30% time)
Implement outreach and communication — (~30% time)

e.g. Share research of GBatNet with other scientists through blogs, twitter and other social media, populate and help maintain website
e.g. Share research of GBatNet with the general public
Our goal through these activities is to develop students able to participate in and ultimately lead multidisciplinary international research teams. All activities are funded (travel to GBatNet meetings, research projects), but there are no student stipends.
Participation in GBatNet will benefit the student, their advisor, and their research by:
Aligning with their dissertation research progress
Providing additional networking opportunities to global leaders and researchers
Receiving mentoring from GBatNet scientists, who will liaise with their primary advisor
Providing access to additional training materials and workshops
The minimum time commitment required is 18 hours per month of contribution to GBatNet activities and community interaction, with higher hourly commitments necessary during months when international conferences will occur. The level of participation from each student may vary based on personal choices and circumstances, and the possibilities for growth in the role are limitless.
Eligibility:
Enrolled in a graduate program and with a long-term goal of a career in science.*
Fluent in English
Able to commit to participate for at least two years. Note: students can continue to participate after graduation.
To ensure that your primary advisor is aware of your time commitment and participation in GBatNet, we will require an advisor-student affirmation letter acknowledging the time commitment. A template can be found here as a pdf or Word doc. We may contact the advisor for a more detailed recommendation letter (accompanied by specific evaluative questions) if the student passes the first stage of evaluation. Students' engagement in GBatNet activities is intended to complement and advance, not compete, with their dissertation research.
* If you have been accepted into a graduate program that formally starts in 2024 after the application deadline, you are eligible. The advisor letter should be from your primary advisor from the graduate program you are entering.
Deadline: January 15, 2024
Informational sessions to learn more about becoming a GBatNet student and for asking any questions will be held on 27 November, 2023 at 8 PM EST and repeated on 28 November 2023 at 8 AM EST. The sessions will be recorded and available here for reference.
We would appreciate if you shared this opportunity widely by linking to this page or circulating this flyer.
Written Application Questions
Please answer each of the following questions to the best of your ability. Answers should be 250 to 500 words.
Briefly, describe a research or conservation project that you were involved in and what level of success you achieved. (Please note that lack of an example related to bats will not confer bias in evaluation.)

An ideal response will clearly describe the role you played, with examples of both activities and initiatives taken. The response will provide clear thoughts on specific growth opportunities (e.g. difficulties or learning opportunities) from the project that you are involved with. Potential solutions are described and implemented, with broader 'lessons learned' for conducting impactful research and conservation.
Describe a project that you envision doing in the future that is more likely to be successful thanks to the experience and collaborations you hope to gain through participation in GBatNet

An ideal response provides an answer that is specific in identifying and addressing an issue or knowledge gap. The approach given and manner in which GBatNet can facilitate its success is specifically addressed.

How do you see yourself as an active member of the international bat research and conservation community in 5, 10, and 20 years from now?

An ideal response describes an active leadership role in the community, with progressive increases in responsibility described. The response also clearly indicates how you may use this role to facilitate or conduct more international research and conservation in a collaborative or network setting. An example of groups or activities that could be targeted for achieving that goal would be included.

What GBatNet member network are you currently involved with or do you imagine is most closely aligned with your current interests and experiences, and what opportunities do you envision could be developed through engagement of this network with other networks in GBatNet? (Please note that lack of current network affiliation will not confer bias in evaluation.)

An ideal response will provide a clear description of the mission of the network and how it aligns with your personal interests and goals. The opportunities for network-to-network collaboration are described in a way that demonstrates a vision for how networks can be synthesized.

List two things that you think GBatNet may contribute to the research community and describe why you think each is important. (Examples: capacity building, science communication, synergistic contributions, networking, etc.)

An ideal response has three listed items with at least one related to training and one related to networking. Details on how these are important to the research community and GBatNet vision and mission are specifically addressed.

What gaps in your training or experience do you think participation in GBatNet might meet? Describe how you have tried to meet or fill those gaps so far. (Examples: Need analytical training, long absence from academia, hesitance in group settings, weak writing, etc.)

An ideal response recognizes specific gaps in personal knowledge or training and articulates specific plans for how to address these gaps. The approach both recognized technical needs in the near term and the broader categorical needs in the longer term.
What are the pros and cons of working in a highly collaborative setting? (This response can be a bulleted list)

An ideal response has at least two pros and two cons, each with further details on how they can impact a collaborative setting. For cons, suggestions for how they can be addressed are included.

Describe a past teamwork experience (4+ people) that you have been involved with. How would you characterize your role in the team? Were there changes that you think could be made the next time around?

An ideal response details how you contributed to the teams and in what ways you supported other team members. For changes, provide a detailed explanation for how and why you think the change(s) could improve how the team worked together or the outcomes of the teamwork.