All animals, like this Northern yellow-shouldered bat (Sturnira parvidens) are colonized by viruses, bacteria, and protists–known as the microbiome. Photo by Brock and Sheri Fenton.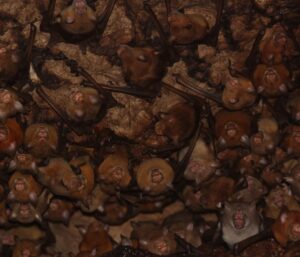 A colony of Macronycteris gigas from Nigeria. Photo by Iroro Tanshi/SMACON.
So the next time you read a news article about there being so many novel viruses discovered in bats, don't assume that all those viruses are dangerous to people! They are a part of the biodiversity of life on earth too, and the harder we look, the more viruses we will ultimately discover and describe.