"Living Safely with Bats": An Education Resource for Co-Existing with Bats
Kendra Phelps, Stephanie Martinez & Emily Hagan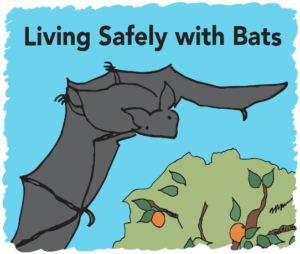 Figure 1. Cover of the educational book, "Living Safely with Bats."

Bats, and wildlife species in general, typically avoid direct contact with humans. However, unintended interactions between humans and bats are occurring with increasing frequency due to human encroachment into natural habitats. Human-to-bat contact can have negative consequences for both human health and bat conservation.
With the increasing contact between human populations and wildlife species a concern, the PREDICT project, a part of the Emerging Pandemic Threats program of the U.S. Agency for International Development (USAID), aimed to: 1) identify novel and emerging infectious diseases originating in wildlife species that could threaten human health, and 2) strengthen global capacity to conduct active disease surveillance to prevent future outbreaks while promoting wildlife conservation. In the second phase of the decade-long project, behavioral risk data was collected via interviews of local residents in collaboration with PREDICT partners in nearly 30 countries. Such data provided insight into human activities and occupational exposures that were closely linked to contact with wildlife species, particularly bats. Contact with bats was frequently reported by interviewees, with contact occurring through diverse human activities and human-bat interfaces. For example, some local community leaders reported that bats commonly roost in their homes and public buildings. Recognizing the increased risk of disease transmission from bats to community members, the PREDICT consortium in collaboration with country partners developed knowledge-based intervention strategies to mitigate potential interactions between local residents and bats. A key strategy was the creation of a behavioral intervention resource, "Living Safely with Bats" (Fig. 1), which was designed and developed by the Human Behavioral Risk team at EcoHealth Alliance, an implementing partner of the PREDICT consortium, in conjunction with information gathered from in-country PREDICT partners and vetted by a panel of multidisciplinary One Health experts.
"Living Safely with Bats" is an educational tool appropriate for all ages and literacy groups that local leaders and educators can use to teach community members about the critical roles that bats play in maintaining healthy ecosystems and about ways to minimize potential contact with bats that co-exist in the local community. The book is divided into several modules covering topics such as the key ecological benefits of bats to humans, specifically seed dispersal (Fig. 2), pollination of economically-important plants, and suppression of crop pests. Additional modules are dedicated to explaining the potential health risks associated with human-to-bat contact, and provides guidance on simple and affordable ways to mitigate contact for both humans and livestock with bats co-existing in the community. Examples include how to prevent bats from roosting in your home and also how to safely remove bats roosting in human-occupied buildings, and the importance of keeping livestock and domestic animals away from areas frequented by bats, such as under roost trees.

Figure 2. Example of illustrations with moderator talking points.
The illustrated picture book was designed as a communication tool to be used in moderated group discussions led by a trusted member of the community. These discussions were held in multiple countries, including Guinea, Sierra Leone, and Liberia, by members of the PREDICT consortium and partner organizations and collaborators in each country (Fig. 3). Even though initial versions of "Living Safely with Bats" were tailored for community members, educators, and government agencies in West Africa, the book has since been adapted for use in other regions (including an Asia-specific version) and to date has been translated into over 12 languages: English (Africa), English (Asia), French, Amharic, Kiswahili, Khmer, Burmese, Indonesian, Nepalese, Vietnamese, Lao, Malay, and Thai.

It has been a thrill to see the diverse ways in which the "Living Safely with Bats" book has been put into action. In Kenya, "Living Safely with Bats" was incorporated into reading exercises for primary school students in three communities. In school settings, we found that children enjoy re-illustrating art from the book following its presentation to the classroom – a great way to engage young learners with the content and information transfer. Similar initiatives were undertaken in other African countries. And in fact, the impact of the book has extended past the classroom. For example, the PREDICT partners in Kenya witnessed community members putting best practices for excluding bats from roosting in a public building into action. Following guidance from the risk mitigation module of the book, during the renovation of a community center, holes in the roof were patched to prevent bats from roosting in the building. Another example from halfway around the world in Ratchaburi, Thailand, the PREDICT partners integrated "Living Safely with Bats" into outreach campaigns aimed specifically at engaging bat guano miners, where the book was used as a part of a larger dialogue intended to increase awareness and promote risk reduction strategies during these occupational activities. In addition, the resource has been presented as the centerpiece for open discussions with community members that participate in similarly higher-risk interactions with bats, such as hunting, and as a supplemental resource for training at health-related meetings (Fig. 4). In North Sulawesi, Indonesia, the book was integrated into PREDICT close-out activities, which combined scientific results sharing with community conversations on bat-related risk mitigation strategies.

Figure 4. Presentation of the "Living Safely with Bats" book by EcoHealth Alliance & local PREDICT partners to local community members in Liberia (left) and hospital staff in Thailand (right).

A key advantage of the modular format of the "Living Safely with Bats" book is that it can easily be tailored for use in a variety of different contexts and locations, e.g., multi-day community events or settings where time constraints and/or local context might make it necessary to choose only the most relevant modules. Expanding on the idea of a modular format, during the course of the roll-out of the book, there was significant interest in increasing the book's coverage to other taxa of zoonotic disease interest – most notably rodents and non-human primates. As the impact of human-wildlife interactions remains high in the public consciousness, there is arguably no better time than now to move these projects forward while continuing to promote a One Health message of conservation and public health.
There is no one-size-fits-all way to share "Living Safely with Bats" – and it was created with exactly that in mind! But what makes "Living Safely with Bats" a successful educational tool for promoting the co-existence of human populations and bats is that the book aims to increase public awareness about zoonotic diseases while also highlighting the critical role of bats in maintaining healthy ecosystems.